Interview with Jane Meney 2017 Miss Eastwood Granny Smith Festival Queen
On Saturday, I had the pleasure of doing Jane Meney's makeup for the 2017 Ryde-Eastwood Granny Smith Festival Parade. This month, she was crowned as the 2017 TWT Miss Eastwood Granny Smith Festival Queen.
Today, I asked her the regular questions for my #meetthebeauty post on her and her responses just blew me away! I was so inspired that I couldn't help but share it with you. It was a bit longer than what social media captions normally are so I thought I'd share it in a blog.
Delving deeper
As many of you now know, my focus on makeup goes beyond the external and focuses on holistic beauty. That is, the inside as well as the outside.
I hope that my social media accounts are more than just scrolling through images of pretty faces. The last thing I want is other women looking at these images thinking, "I wish I looked as pretty" or any other comparative self-statements, I know I sure fall into this temptation sometimes. It's not to say that there is anything wrong with posting makeup photos with lots of makeup on, I am a makeup artist after all and I love the art of it, but I personally find it so important not to normalise photos of women with super "done-up" makeup as if that is what is expected day-to-day. I post these photos because it's in my line of work as a makeup artist but I also value the inside just as much.
The story behind the #meetthebeauty posts
One way I like to delve into this is by bringing a deeper aspect to my posts and share some personal about my clients that so that we can really champion and appreciate the holistic beauty of these ordinary, real and relatable women. I thank everyone for their positive feedback about these little posts and it's really spurring me on to keep going. I really love that it's an opportunity for other women to see photos of my clients and appreciate them for who they are and on a deeper level rather than just another "pretty face" online.
#meetthebeauty – Jane Meney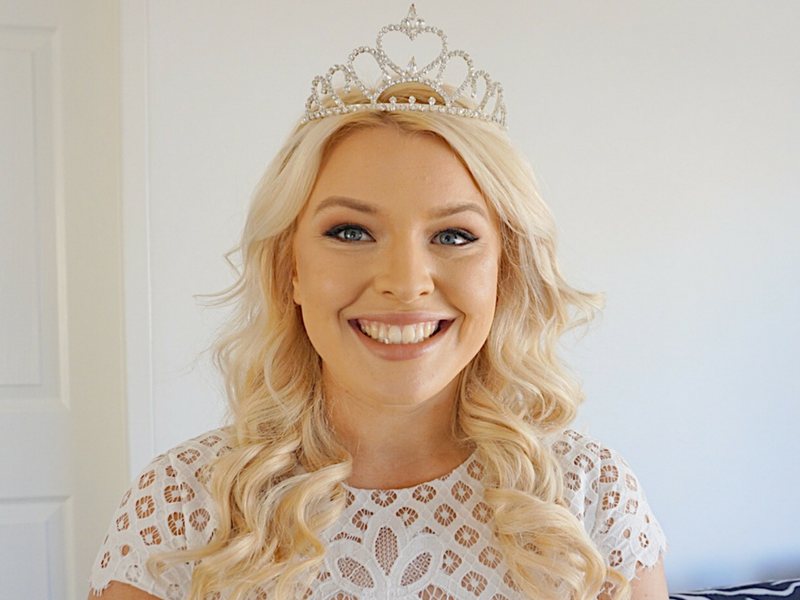 Thank you Jane for opening up and sharing so deeply about what you're passionate about. It's so inspiring and I wish you all the very best in your work as the 2017 Granny Smith Queen/Ambassador this year!
Here's her answer. It's not an interview as such (just three questions I asked), and there's no particular formal structure. It's her unedited answer. She's absolutely real, raw and beautiful and I hope it inspires you as much as it inspired me!
What are you passionate about?
I'm passionate about education and guiding young people towards finding their sense of purpose.
What are your Interests/Hobbies?
I love Music, Art, Dancing, Netball and spontaneous adventures. Love the outdoors and spending time with friends and family. Also love me some brunch. That's a hobby in itself.
Why did you join the Miss Granny Smith program and what does it mean to you?
I think having a community that feels like a family has such an amazing effect on the way we view ourselves and the way we view others. If we feel supported and encouraged we naturally pass that encouragement and support onto others. These standards slowly start to define us as a society. Part of my role allows me to help protect this unique dynamic within our community through various initiatives that unite us over the things that truly matter.
Furthermore, I think it's part of human nature to desire to be a part of something greater than ourselves. I think there's so much we can do as young people to contribute to society in order to nurture that sense of purpose. I guess this was my way of giving back to the community in a capacity I felt was within my grasp.
I'm passionate about investing in individuals and families who haven't experienced the kind of positive support I've always been able to receive. I'm passionate about the community being the first line of defence against mental Heath issues. I'm passionate about initiatives that raise awareness and funds towards those who may be struggling day to day. I'm passionate about protecting local and family-run businesses who have fought long and hard to continue to be a part of our community.
So I began this journey in order to help support, sustain and enhance the Eastwood-Ryde family so that we can move forward as a society that views every individual as someone with dignity, with value and with a voice that matters.